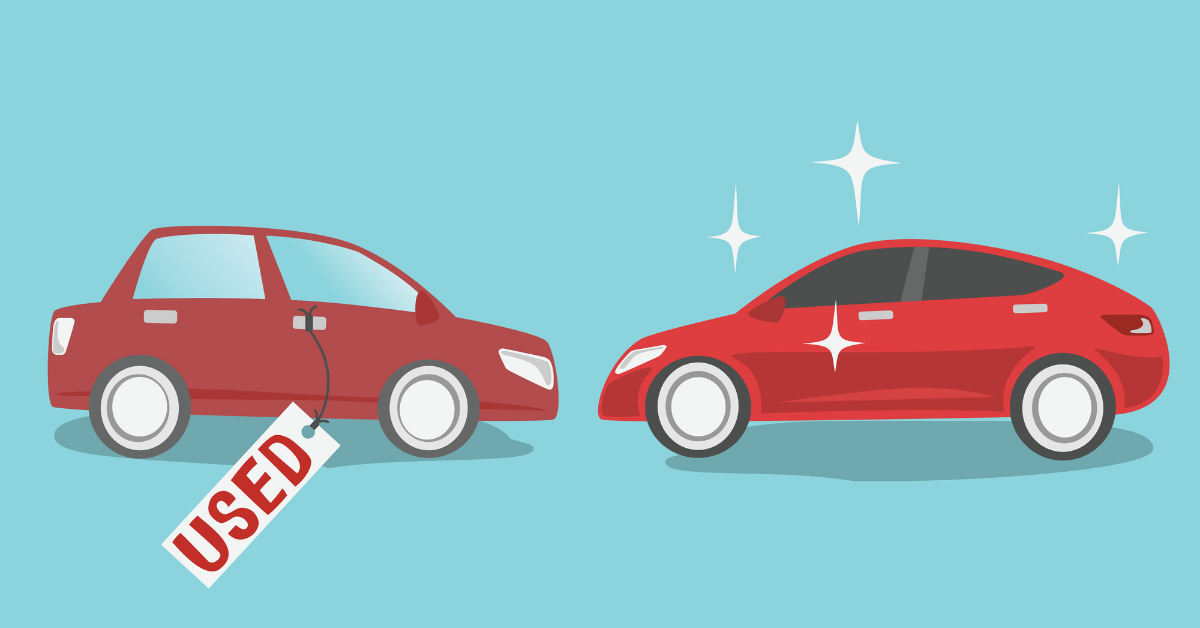 Imagine the shiny, fresh lick of paint, that crisp "new car smell" as you adjust your seat and rear view mirror for the first time. Or the feeling of satisfaction and peace of mind in knowing you are the proud owner of a brand new untouched car.
Perhaps you're more focused on saving your pennies and getting a good bargain. You'd prefer to look into an older model with a regular service history, low kms and you don't mind a little wear and tear.

Whichever direction you're leaning towards, shopping for a car can be a stressful, confusing and time consuming process, even for those of us who know a thing or two about cars. Here are a few aspects to think about when deciding between buying a new or used vehicle:
1. Price
Buying a used car is generally going to be cheaper than buying new and will therefore save you money up front. What most people don't realise is there can be many hidden aspects to not only owning a used car, but also buying one. Unforeseen major repairs, could end up costing you more money down the road and there can be a fair amount of effort and uncertainty when working out the value of a used car.
Whilst the cost of a new car is generally more money up front, you are likely to be protected from repair costs with the coverage from the manufacturer's warranty. With a new car there is clarity around what you get for the price you pay, leaving you to negotiate on the value of your trade-in.
In today's market, there are also quite a few affordable options when buying a new car. Low weekly payments through a finance offer or choosing a more affordable model can make the new car dream even more achievable.
2. Reliability
The older the car is and the more previous owners it has had, the more likely you are to run into underlying issues that you or even the seller might not be aware of. Factors such as how well a car has been maintained can influence its reliability but as a simple guideline, newer with low mileage equals less problems.
One suggestion is to check the service manual to see if the used vehicle you are considering has had regular servicing. This is one way to reduce the risk of unexpected issues. Whereas buying a new car ensures there have been no previous owners and that the vehicle will have a clean bill of health.
Most car companies will offer a manufacturer warranty to repair or replace any issues your new car may have in the unlikely case your car experiences any unexpected mechanical 'speed bumps'.
3. More Choice
When buying a new car, you have the freedom to choose which model, what colour, and what features you would like. With more options to choose from you can be more selective ultimately getting the exact one you want. When looking for a used car and taking into account how many kms it has on the clock or the condition of the vehicle, you may have to sacrifice some of your must-haves.
Another factor to consider is the benefit of modern technology that comes with a new vehicle. This starts with things like the latest infotainment systems and smartphone connectivity and extends to features such as state of the art automatic braking and safety systems and improved vehicle design for greater fuel efficiency.
Older or imported cars may not have the latest safety features or be as efficient, meaning that same road trip could be safer and easier on the purse strings in a new car.
4. Depreciation
Unless you're purchasing a classic vehicle as an investment, most vehicles will have some element of depreciation from when you purchase it. If purchasing a new or used vehicle through a vehicle dealer they will have a margin from the sale to cover their operating costs which influences the initial depreciation of a vehicle.
Another option is to purchase a vehicle privately to try and secure the lowest price. However, you may have to take your chances on the reliability and condition as opposed to purchasing through a vehicle dealer, where you have the protection of the Consumer Guarantees Act should something go wrong. Vehicle dealers can also provide warranties, insurance, and finance options to make completing the purchase easier.
Fortunately not all cars depreciate as quickly as others, and highly reputable brands and the more popular models, like a Suzuki Swift will hold their worth for longer. For more specific examples of depreciation, take a look at our recent blog.
5. Insurance
Another financial aspect to consider is insurance. Depending on whether you get first or third party coverage, what make and model you purchase and whether it is used or new will vary the rates of insurance. New cars are usually more expensive to insure, simply because they cost more to replace if the car is written off.
6. Warrant of Fitness (WOF)
Every car needs to be inspected to ensure it is safe and roadworthy, such as checking the tyre condition, brake pads, seatbelts and horn. How often will depend on how old the car is.
At the moment all used and imported cars that are first registered on or after 1 January 2000 need to have a Warrant of Fitness (WOF) check every year. Any older than that you need to have it checked every 6 months. Brand new cars on the other hand, do not require another check for three years, saving you both time and money. For more information on getting your car's warrant of fitness, check out New Zealand Transport Agency.
There are many advantages to buying both new and used cars. Ultimately it comes down to what is going to fit your needs and meet your financial capabilities. Where possible it is wise to try to buy the newest, safest and most efficient model you can afford.
Here a few brief points summarising the pros for buying both new and used vehicles.
Advantages of buying a New Car:
More reliable and less likely to have costly mechanical issues
Less time and money spent getting Warrant of Fitness'
A wider selection to choose from
Latest and best technologies
Prestige and pride of buying new
Car can be covered by warranty of car manufacturer
Advantages of buying a Used Car:
Spend less money up front buying a used car
Can be less affected by depreciation than that of a new vehicle
Cheaper to insure
For more information and advice check out our Complete Guide to Buying a New Car.