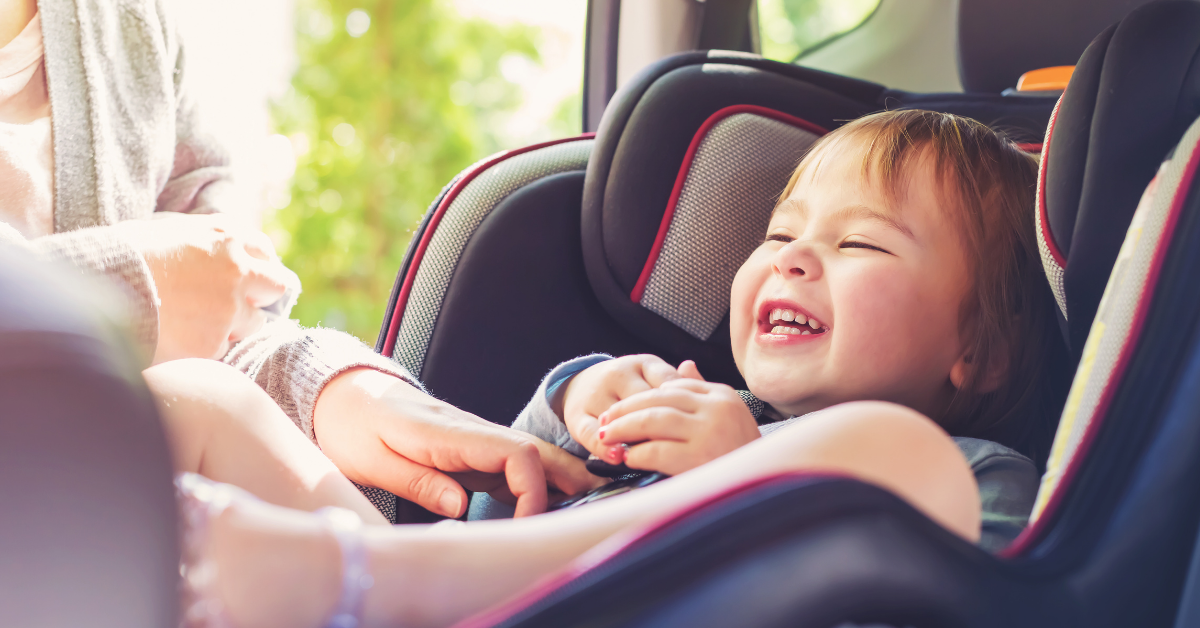 Choosing the perfect car seat for your little one can be a daunting task - especially if you're not across all of the rules and regulations. With so many options available it can be difficult to determine exactly what your child needs.
In NZ, all children under 7 years of age must be in an approved child car seat when they're travelling in a car or van. From their 7th until their 8th birthday they should be correctly secured in an approved child car restraint if one is available, or they should use the car's seatbelt. Children between 8 and 14 should wear seatbelts or if they are under the height of 148 cm it is strongly recommended they also be seated in an appropriate child restraint.
As the driver of the car, you are legally responsible for making sure any child is properly restrained in the back seat of the car appropriately for their age, size and development. So let's take a deeper look at some of the top recommendations to ensure safety comes first for your child when travelling in a vehicle.
Babies and Toddlers
Capsules and rear-facing car seats are suitable child restraints for infants and toddlers. Check the manufacturer's recommendations for the maximum weight and height as this will vary depending on the standard and the model.
A capsule is a rear-facing only car seat and is designed with a carrier handle for extra convenience. It is strongly recommended by Whānau Āwhina Plunket, New Zealand's largest support service for the health and wellbeing of tamariki or children under-five and their whanau, that children stay in a rear-facing car seat for as long as possible. This is until the child has reached the maximum weight and/or height allowed by the manufacturer of your child restraint or at least until they turn two.
Never place a rear-facing car seat in the front vehicle seat if there is an active frontal airbag. If an airbag goes off while your baby's in the seat it could seriously injure them.
Toddlers and Older Children
When your child has outgrown the rear-facing car seat's weight or height limits, the best practice is for the child to move to a forward-facing car seat with a harness.
You might have difficulty determining when it is time to move your child from a rear-facing to a forward-facing car seat. Check the labels and car seat instruction manual for the minimum weights, heights and possibly ages before moving a child into a new car seat or mode. Your child should remain in a forward-facing car seat with a harness until reaching the maximum weight or height limit allowed by the car seat model.
A booster seat is the next step up and will suit kids who have outgrown their harnessed car seat. The purpose of a booster seat is raising and positioning the child so that the vehicle's lap-and-shoulder belt fits properly. The raised seating surface of a booster seat lets the child bend their knees over the booster seat, which keeps the lap belt snug across the child's hips and upper thighs, and the shoulder belt across their chest.
A full booster seat (with back and bottom) will reduce the risk for serious injury significantly.
Be Prepared Beforehand
There are many things to think about when you are a parent so give yourself as much time as possible to find and install the right car seat. If you can get your car seat a few weeks before you need it, it'll be much less stressful when you actually come to use it.
Try Before You Buy
Not all child restraints fit all cars, and sometimes the seat belt might not be long enough to secure the restraint. Make sure you check the car seat fits in your car before or straight after you purchase it, and if your family has two cars or another family member will be transporting your child, check the child restraint fits in those cars too. This means if the car seat doesn't fit, you have time to return it and exchange it for one that does.
Buying Second-hand
Car seats can be an expensive purchase and if you are looking at buying a used one find out what the expiry or 'do not use after' date is. This can usually be found on the car-seat or in the owner's manual. It also pays to check for any signs of damage, discolouration, or missing parts. The child restraint needs to be in the best condition to perform at its very best should your vehicle be in a crash.
Install it Right
If installing the child restraint yourself, ensure you follow the instructions closely, because incorrect installation will put your child at risk of serious injury or death. Talk to the retailer you are purchasing your car seat from or your Plunket staff member, as they can often recommend a trained technician from Plunket or elsewhere. These experts can help you choose the best child restraint for your car, as well as show you how to install yours properly.
To find your local Child Restraint Technician, go to the NZ Transport Agency or Waka Kotahi website, or click here.
It is important that only products recommended by the manufacturer of the child restraint be used with that restraint, so avoid attaching aftermarket products such as head support cushions, harness strap covers, car seat covers, add-on toys and trays, seat belt adjusters and headrest mirrors.
Adjust as You Go
As your child grows, make sure your car seat is adjusted to suit their height and weight according to the car seat manufacturer's instruction manual. Keep the instructions in a safe place or on hand in your glovebox so you can refer to them as you need to. Start looking to buy a new car-seat before your child has outgrown their current one.
8 Things to Look Out For When Choosing a Car Seat
1. Standard Compliance Label
Choose a car seat that meets one of these 3 standards:
Australian/New Zealand standard AS/NZS1754
US standard FMVSS213
European standard ECE R44.0
2. Locking Clip
A locking clip "locks" or firmly holds a lap-and-shoulder seat belt at a fixed length to stop the lap portion from lengthening during normal travel and to stop the restraint from moving. Always follow the child restraint manufacturer's requirements/instructions when using the locking clip.
3. Tether Strap
In the unfortunate event of a crash, a tether strap can reduce the distance that the child's head moves forward. A tether strap supports the highest level of safety performance for that restraint. Using a car seat without a tether will not be less safe, however if your car seat comes with a tether strap, then it must be used according to manufacturer's instructions.
4. Side Wings
Padded wings around your child's head can protect your loved one in the case of a side-on crash. Some wings are even adjustable by height and adjust to your child's needs.
5. Reclining Seats
Some front-facing and booster seats come with the added bonus feature of being able to recline, either before being installed, or in more convenient cases, after. This can give your child more comfort when resting or sleeping.
6. Height-adjustable Booster Seats
Most booster child restraints come with backs or head rests that move up and down to adjust to your child's height.
7. Lining
The lining of a child restraint should be easy to remove for when it needs to be washed. Some car seats come with a mat underneath to protect your car's interior otherwise a towel can do the trick. Some car seats need an anti-slip mat underneath due to the smooth vehicle upholstery and in some cases you cannot put anything underneath the car seat as per manufacturer's instructions.
8. ISOFIX
ISOFIX is an alternative way to safely install a car seat in your car. Check to see if your car has ISOFIX points. These can be found on each side of the seat, between the seat back and cushion with two metal shaped D rings, or a bar that runs along the seat. Look out for an ISOFIX tag on the seat.
On the car seat base lock, the ISOFIX connects into the two ISOFIX rings or bars located in the seat. Make sure your car seat is fitted securely in your car using ISOFIX installation. There is a maximum weight limit for using ISOFIX points, so once your child reaches the maximum weight, you will need to install your car seat using the seatbelt only. Refer to your car seat instruction manual for full details on how to properly install your child restraint using ISOFIX.
Suzuki Parent Promise
The safety of your child is your top priority as soon as you get behind the wheel, so for your piece of mind, and your child's protection, we will supply a Whānau Āwhina Plunket recommended ISOFIX* 2-in-1 convertible car seat valued at $299 for FREE, when you purchase a new Suzuki car.
It's part of our ongoing commitment to keeping our children safe around vehicles, and in the community. Learn more about our Suzuki Parent Promise here.