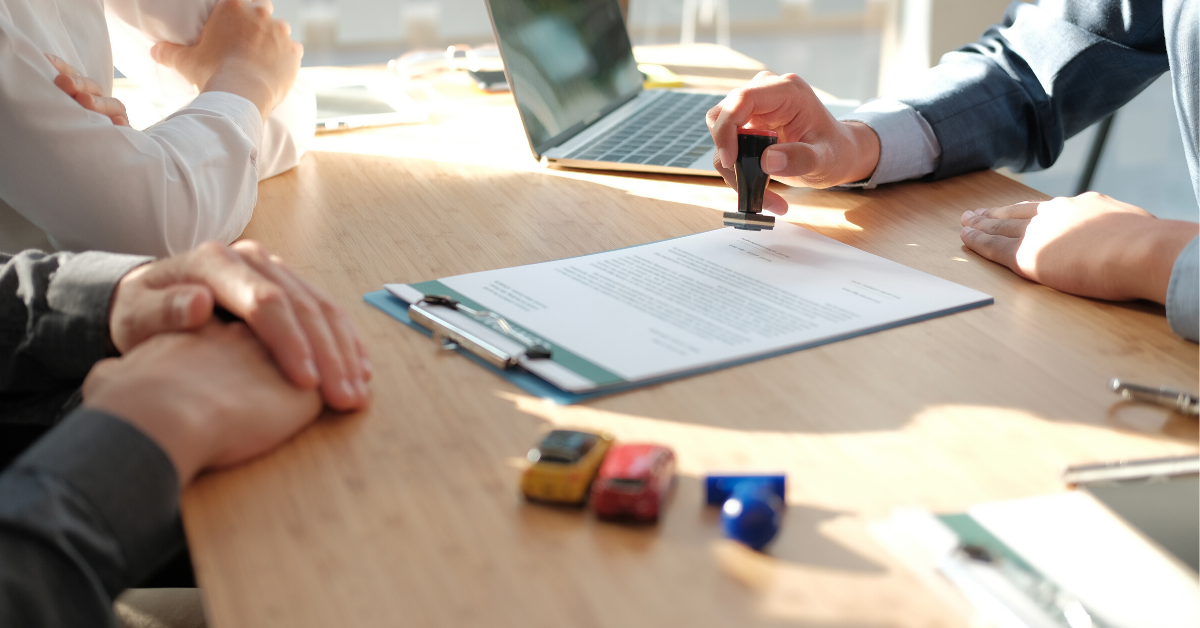 Heading to the dealership to buy a new car is one of the most exciting experiences for a lot of Kiwis. However, juggling finances to afford your dream car can be incredibly difficult. For a lot of New Zealanders, buying a brand new car outright is a big ask financially and not always possible.
The good news is, it doesn't have to be a barrier. There are a tonne of flexible finance options available to suit your needs and your budget.

When you're looking at financing a car, there are a few things to consider before sealing the deal and grabbing your new car keys. It's important to understand all of your options, how the application process works, and to make sure that you're borrowing responsibly. Here's everything you need to know.
What to consider before beginning the car finance process
First things first, it's important to think through whether or not finance is the right option for you. It might be a good fit if:
You have some, but not all, of the funds you need required to buy a car outright
You can afford to service regular payments comfortably
You have a car you can trade in to contribute to the cost of your new car, and you'd like to pay the remainder in managed instalments
You personally have a good credit history or, if you are new to financing with no credit history, have a suitable co-signer
If you feel these apply to you and you're interested in financing a car, the next step is to calculate how much you can afford to repay weekly, fortnightly or monthly. Make sure to write down a budget including your regular income, direct debits and outgoing payments, other expenses and the costs associated with maintaining a new car such as WOFs, registrations, servicing and petrol.
Finally, consider whether you have anything to contribute as a down payment for your new car. As you'll likely be paying interest on your new financed car, the more you can put towards it from the get-go, the less interest you'll pay over time. This might be in the form of savings, a trade-in car or proceeds from selling your old car privately.
Once you've completed these steps and have some affordable numbers in mind, use our Finance Calculator tool to find out how much your car repayments will cost and whether or not this fits within your budget. If the numbers aren't working, you may need to reconsider which car you'd like to purchase or wait until you are in a better financial position.
What are the types of car finance options available?
The next stage of applying for car finance is to do your due diligence regarding the options available. There are a number of ways for Kiwis to secure car financing, each with their own risks and benefits. Here's a quick snapshot of some of the common options available:
Dealership Finance
Dealership finance is often the preferred method of lending, as the finance services used are usually automotive specific, have a strong relationship with your dealer (which could help to get your application across the line), and are able to work in car insurance policies or extras like a service plan or fitted accessories.

Keep an eye out for the special nationwide finance offers and remember to do your research on the interest rate, term and balloon payments, as a low weekly payment may not be as good as it seems.
At Suzuki New Zealand, we've joined forces with UDC Finance Limitedto provide you with affordable and flexible finance options through Suzuki Finance. Over the past 80 years, UDC has helped thousands of New Zealanders get the cars they really want. That's why they are known as New Zealand's finance company. If you have any questions about car finance, our Dealership Business Managers are here to help. You can find their details here.
Family Finance
It's always worth considering talking to family members. They may be able to help you finance a new car so you can pay it back interest-free or over a longer term. However, if this is the route you take make sure that you reach a clearly defined agreement beforehand as these deals can sometimes turn sour.
Bank Loans
Most banks in New Zealand offer personal loans or car loans to help finance a new car. Like Dealership finance, these loans come with conditions so make sure to do your research, It's important to look into the loan establishment fees, early repayment penalties and the cost of a separate insurance policy, as often these factors will make the loan more expensive than it initially seems.
Credit Cards
Some car buyers use a credit card to pay off their new car at more flexible instalments and to avoid opening up a new loan account. This method requires a high level of discipline when it comes to making repayments and often have higher interest rates than other forms of borrowing. Also many dealerships will not accept credit cards as a method of repayment, so make sure to check this out first.
If you'd like to find out more about Suzuki finance options, you can check out our FAQs page around car finance, here.
What's the difference between buying and leasing?
Before you apply for financing you'll need to know whether or not you'd like to choose to buy or lease a car.
There are two main options:
Credit Contract
This is generally suited to personal car buyers who want a regular payment plan, a fixed interest rate over the loan term and the ability to include on-road costs and insurance into the loan. It's the most common option and the quickest way to get the keys to your new car. Once the last car payment is made, ownership will be transferred to you.
Finance Lease Agreement
A finance lease agreement is a good option if you need the car for your business. We buy the car and lease it to you, charging a regular lease amount based on the total cost, less an agreed value for the car at the end of the term (the assumed residual value), plus interest. At the end of the term, you will have the opportunity to purchase or refinance the vehicle at the agreed value.
For businesses this could be a convenient option, as you'll get to keep your business capital with no upfront costs, attain flexible loan terms from 1 to 5 years, and potentially recover GST on the rental.
How does the car finance application process work?
Having your finance sorted before you start looking, goes a long way to helping you decide which car is right for you and your budget.
If you choose to go with the Suzuki Finance options, the credit application process is quite straightforward and pre-approvals can be completed online.
To complete a car finance application, you'll need:
a current New Zealand full or restricted driver license
your current employer details and previous employer details (if you've changed jobs in the last 3 years)
details of your income, expenses, assets & liabilities such as other loans or credit cards
There are also some specific requirements you'll need to meet:
You are 18 years or older
You are a New Zealand resident or have a New Zealand working visa
The minimum amount to be financed is $5,000
You are not currently bankrupt
You do not have a history of credit defaults
You have or will obtain comprehensive insurance to the vehicle's value
You agree the Privacy Statement by the Suzuki Finance service provider applies to your application
If you're able to comply with these requirements and provide all of the documentation, you can complete an online application form for pre-approval here (this can also be done in the dealership while you wait if you'd prefer).Most applications are approved within the hour.
Make sure to read the credit contract or lease agreement carefully before signing it and if you are unsure, get a second opinion with some independent financial advice. Remember to bring your co-signer if needed. Once these steps are complete, you're ready to complete the sale and drive away!
You've been approved and bought your new car - what's next?
If you get to this step, congratulations! Buying a new car is a brilliant milestone to accomplish. You've done the hard part and from here all you'll need to do is focus on meeting your regular repayments throughout the term of your loan.

It's important to get in touch with your dealership or loan provider if any of your circumstances change, as failure to meet repayments can result in poorer credit ratings preventing you from financing in future.

Other than that, you're good to go! If you're still stuck on which car would suit you best, make sure to download our Guide to Buying a New Car. It's FREE and will help you navigate the twists and turns.