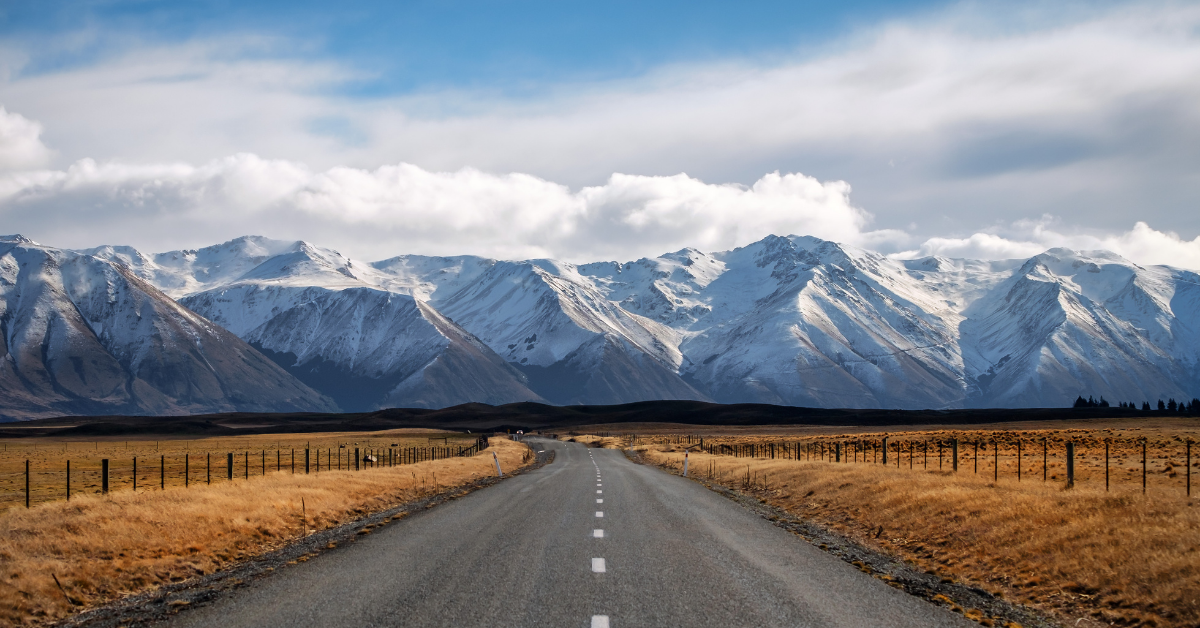 Summer is here and many Kiwis are looking forward to a bit of exploration around Aotearoa.
We have highlighted itineraries for five unique road trips around the country, covering different terrains and vistas for you to zip around and take in the sights.
There's a mixture of single-day road trips for those short on time, right through to week-long holidays that make the most of our spectacular country!
The beauty of these road trips in a Suzuki is that no matter how many kilometres you are driving, it won't break the bank thanks to our leading economical fuel design. For more tips on how to drive to improve your vehicle's fuel economy, read this blog.
The Winterless North: Auckland to Cape Reinga
Many Kiwis have never ventured to the far north and they are seriously missing out. Looking for Cook Island-esque white sand beaches, live music, the best fish and chips, water sports, horse-riding and relaxed summer vibes? The Winterless North has it all.
Starting in Auckland head north, making your first stop in Matakana. If you're passing through on a Saturday, you'll be lucky enough to coincide with the Matakana Village Farmers Markets, bursting with coffee, treats and artisan goods. Matakana is also home to many boutique vineyards, so take your pick and stock up on some vino for the holiday ahead.
Take the scenic coastal route from Matakana to Waipu via Mangawhai and stunning Lang's Beach, stopping for lunch at the iconic McLeod's Pizza Barn & Brewery. These roads can be windy, but luckily many Suzuki vehicles have special
BOOSTERJET turbo technology meaning the engines deliver the power, torque, and feisty performance you would expect from an engine twice the size, while also consuming less fuel – win-win!
Continue on to Whangarei and stay the night at one of the nearby beaches – the Tutukaka area is a good option.
The next day head to the beach - Whale Bay or Matapouri are both idyllic white sandy beaches. Whale Bay requires a 10-15 minute downhill walk to reach it, so if you're looking to share the beach with as few people as possible, this might be your best bet.
Parking is tight here, which makes our compact sized vehicles like a Swift, Baleno or Ignis perfect. After the beach, pop over to Schnappa Rock for a bowl of hot chips and a cold drink. Head back into Whangarei town for the evening to check out the Town Basin which is currently under development to include a colourful Hundertwasser Arts Centre. Have a drink at No.8 and enjoy the evening.
The next day, continue up north to Paihia and Russell. Only an hour drive from Whangarei, Paihia is a tourist hot spot and has a wide range of eateries and bars, as well as plenty of adventure and water activities. Take the car ferry from Paihia over to Russell, the ferry leaves every 10 minutes, making it easy to fit into your other plans. The ferry takes all cars, not just small ones – so even if you have a Vitara or S-Cross, you'll be able to make it across.
Once you arrive in Russell, it's a short drive from the ferry terminal to the town centre. Park up for a drink and lunch at The Duke of Marlborough, New Zealand's oldest pub.
The next day, make an early start for the longest leg of the trip – Paihia to Cape Reinga (2 hours 44 minutes with no stops).
Stops along the way could include Kerikeri for a coffee or Mangonui for the best fish and chips - however we do recommend getting to Cape Reinga as fast as you can and making stops on the way back. It's much further away than you think.
If you experience any car issues or forget to top on fuel and have purchased your Suzuki in the past five years – don't forget that you automatically have free roadside assistance with Suzuki Assist!
Wild West Coast: Picton to Franz Josef Glacier
Starting in picturesque Picton, fuel up your tummy and your car and hit the road. First stop - St Arnaud. It's a decent drive between Picton and Saint Arnaud so be prepared for a couple of hours of straight driving alongside the Wairau River.
Once you arrive at St Arnaud, take a look around the village and wander around the surrounding Lake Rotoiti. From there, it's only another 45 minutes to Murchison.
In Murchison, make sure to walk across the New Zealand's longest swing bridge at the Buller Gorge Adventure and Heritage Park, and grab a bite to eat from one of the local cafes.
From Murchison to Westport it's another hour and 20 minutes, so power on through – this is definitely a road trip for those that love driving and being on the open road! Suzuki's Swift Sport would be perfect for this stretch of road, made with dynamic manoeuvrability and road holding performance in mind.
In Westport, enjoy a well-earned burger or steak at Johnny's and rest up for another few big days of road travel. If you have time, check out the seal colony at Cape Foulwind.
The next day Punakaiki, Greymouth and Hokitika should be on your itinerary. The Punakaiki Pancake Rocks are an absolute must-do. The pancake shaped limestone rocks and blow hole walk is a very easy walking track of only 1.1km.
From Punakaiki carry on through to Greymouth and stop for lunch, and a beer if you're fortunate to have a sober driver, at Monteith's Brewing Company. Or opt for a brewery tour which includes a tasting if you have a little more time on your hands. Greymouth is the largest town on the South Island's west coast, so there's a lot to do here depending on how much time you have. You can spot a lot of shops and galleries around Greymouth specialising in pounamu (jade stone).
In another 30 minutes you'll find yourself in Hokitika. Go down to the beach and check out the well-known Hokitika driftwood sign, and on a clear day you may even be able to spot Aoraki Mt Cook in the distance.
The other must-do in Hokitika is the Hokitika Gorge, the water is so blue it almost seems unreal!
Spend the night in Hokitika and have the whitebait pizza at Fat Pipi Pizza for dinner – apparently the locals say you haven't experienced the real Hokitika until you've had this!
This particular road trip involves a lot of driving and time on the road, so make sure you are stopping regularly for a rest, driving slowly, taking turns driving with a friend and focussing on the road – for more safety tips for you and your car check this out.
The next morning fuel up in Hokitika and hit the road towards Franz Josef Glacier. The drive is about an hour and 45 minutes and it's so worth it once you get there.
Franz Josef Glacier and Fox Glacier are shrinking, so having the opportunity to see them in the flesh is a real privilege! When you arrive at Franz Josef, a guided heli-hike glacier day out is a once-in-a-lifetime experience that's definitely worth checking out.
After a day of exploring, hit up SnakeBite Brewery for delicious South-East Asian food and beer to round off a massive West Coast adventure.
Taranaki's Forgotten World Highway: Taumarunui to Stratford
This is a short roadie for those who might be strapped for time and still want to get in a little exploring over the holidays. Described as 'a road that hugs the rugged contours of the land to provide a natural roller coaster experience' this is a unique stretch of tarmac perfect for an adventurer looking for something out of the ordinary.
The journey begins at Taumarunui, the starting point of the 'Forgotten World Highway'. Make time for all that Taumarunui has to offer – including trout fishing, kayaking, Lauren's Lavender Farm, Forgotten World Adventures for some rail carting and making some fluffy friends at Nevalea Alpacas.
Pass through Moki Tunnel commonly known as the 'Hobbit's Hole' en route to Whangamomona. It's a 180-metre-long, single lane tunnel that leads to the scenic Tangarakau Gorge.
Next on the itinerary is Whangamomona, a quirky town which declared itself a republic in 1989 and is known for having a goat, a poodle and a turtle as former presidents' of the town. The main thing to do here is have lunch at the Whangamomona Hotel and get your passport stamped – yes that's right! Bring your passport and receive a stamp not many will have.
Before heading off for the last leg of your trip, make sure to squeeze in the three hour walk of the Whangamomona Saddle or if you don't have time, at least drive to the top of the Saddle for 360 degree views.
Whangamomona to Stratford is only a further hour drive but there are plenty of scenic views to take in along the way. The Strathmore Saddle is another viewpoint worth stopping for to enjoy the four volcanoes - Tongariro, Ruapehu, Ngaurahoe and Taranaki.
Explore Wine Country on the Classic Wine Trail: Napier to Marlborough
A trip specifically for the wine connoisseurs among us, the Classic New Zealand Wine Trail requires at least six days (and a sober road-trip buddy), taking approximately 444 km to get there and crossing both the North and South Island. Get your Sat Nav ready and your smartphone connected to your infotainment system through Bluetooth, Apple CarPlay or Android Auto.
Beginning in Napier in the Hawke's Bay, the route takes you through to Hastings, Martinborough, Wellington, Picton and finishing in Marlborough – you will cover regions accounting for more than 80% of New Zealand's wine production.
The Hawke's Bay alone has over 200 vineyards, so choosing which ones to visit while you're there is going to be tough! But depending on your palette and which wines take your fancy, you should be able to narrow it down. Perhaps Crab Farm is a bit of you? Or Elephant Hill?
The journey between Hastings and Martinborough is approximately three hours, so we would recommend spending the night in the Hawke's Bay after a day of checking out their vineyards and starting a fresh new day for the Martinborough leg.
There are a few options for stops along the way, including Masterton, another town in the Wairarapa region with plenty of shops and cafes. The best bakery worth a pastry or two on the way to Martinborough is The Clareville Bakery, in between Masterton and Greytown.
Once you've reached Martinborough, most of the wineries are along the same stretch of road making it very easy to go between a few of them in one day. There are some local favourites that are booked out months in advance like Poppies, but there are also some smaller boutique vineyards well worth checking out too.
Spend the night in Martinborough before heading over the Rimutaka Hill to the capital city. Be wary of driving this stretch of road – drive slowly, especially in wet weather, this road is extremely windy and pull over to the slow lanes to allow those more familiar with the roads to pass.
When you arrive in Wellington, grab a bite to eat at one of the many cafes and restaurants and head straight to the car ferry terminal at Aotea Quay. (Wellington is great but the wine is what we're here for!)
Once you touch down in Picton, it's a short hop, skip and a jump over to Blenheim, the centre of Marlborough's wine country! With thirty-odd wineries to choose from, take your pick and kick up your heels for the final location of the wine trail.
444km is easily doable in any of the economical Suzuki range of cars and SUVs.
The Garden City to Sea Life Central: Christchurch to Kaikoura
Ōtautahi is an up-and-coming city with eateries galore and a climate that's hard to beat, which makes it a great starting point for a North Canterbury road trip.
Starting in Christchurch, spend a day zipping around the city and up the surrounding hills. With its straight flat roads in the central city, Christchurch is an easy place for getting around!
Check out Hagley Park and the Christchurch Botanic Gardens for some free outdoor activities, then hit up Riverside Market for a huge selection of food options – there's something to eat for everyone!
A drive up to the Port Hills is worthwhile, and this stretch of road between Christchurch and Lyttleton has been hailed as one of the best driving roads in New Zealand. Cruise up the curvaceous road and take in the scenic views looking out over Port Lyttleton.
Enjoy dinner in Lyttleton at one of its eccentric restaurants like Super and take a walk around the seaside suburb.
The next day start bright and early by grabbing breakfast at one of Christchurch's many cafes and then hitting the road north towards Kaikoura. A fun stop along the way is Waipara, a small town with a burgeoning wine scene. Lunch at Black Estate is a nice way to break up the drive – make sure you have a designated driver if needed!
The next stop worth making is via the rural town of Cheviot. Once arriving in Cheviot, turn off towards the coast on Gore Bay Road. The Cathedral Cliffs overlooking Gore Bay are a natural wonder and definitely worth the detour. The Cathedral Cliffs viewpoint is right by the main road and you can see right down to the bay.
Carry on down to Gore Bay itself for a stroll across the beach or keep making your way to the final destination.
From Cheviot to Kaikoura is only another hour drive, meaning you'll arrive in Kaikoura just in time for tea. Kaikoura is known for its seafood, particularly its crayfish. Park up outside the famous Nins Bin and chomp down on some seafood and enjoy the coastal sights.
The next day make the most of the marine life around and sign up for a Marine Tour or Dolphin Encounter.
If you're hankering for more travel additions to your Canterbury roadie, head back to Christchurch via Hanmer Springs to finish your holiday with a relaxing soak. Or test out the ALLGRIP 4WD or AWD technology in an off-road trek 39km to Lake Tennyson in your Vitara or S-Cross. This scenic spot was formed behind a glacier-deposited dam of rubble and is a lovely place for a picnic. Dial up the 'wilderness' driving experience on the Rainbow Road to the Island Saddle using the more than capable 4WD Jimny. As this is private land, remember to leave the land and the gates as you find them.
Wherever your choice of road-trip, don't worry about the distance your Suzuki has done – she can handle it.
Looking to own a Suzuki that will take you on your next road trip, take a look at Andrew from Kapiti and his thoughts on his trail blazing Jimny or Jordan from Balcutha and her Vitara Turbo.