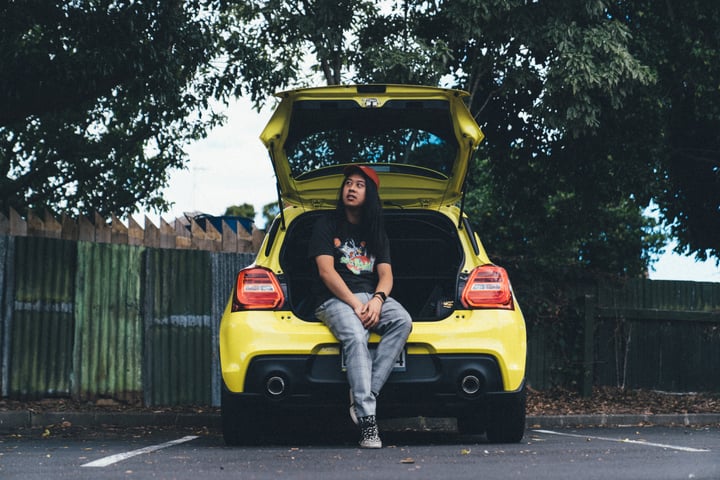 Once he steps onto the stage, multi-talented musician Geoff Ong turns from quiet introvert to high-energy and engaging performer. Outside of music, photography and video, Geoff's other passion is cars. Here we find out why his Suzuki Swift Sport is the perfect accompaniment.
Click here to see our recent article about Geoff and his music journey.
Tell us a little bit about yourself?
Hi! I'm Geoff Ong, and I'm a musician, photographer, and filmmaker living in Tāmaki Makaurau Auckland.
Is this your first new car?
Sure is, I've previously only had older used cars so getting into something new felt very fancy indeed!
Why did you choose Suzuki over other brands?
I was looking for something with a bit of fun and character - I like things that are interesting and kind of quirky. I feel like that sense of charm is missing from a lot of new cars, especially small practical ones! But I feel like Suzuki's cars are cute and fun and charming.
What do you love about your Suzuki?
Probably my favourite thing about it is the gearbox.
I'm a real car nerd so I love that it has a 6-speed manual! There's just something so engaging about trying to make every gearshift as smooth and perfect as possible - even when I'm just commuting it feels like a fun game I can play to keep myself from getting too bored.
Why was your Suzuki Swift Sport the right fit?
Honestly it's kind of a unicorn car for me - something that ticks all of the boxes.
It fits all my gear when I'm playing gigs and doing shoots, it's economical, it's small enough to park pretty much anywhere, and it's just loads of fun to drive!
Describe the experience you had buying your car?
It was pretty smooth and easy, the sales team were very helpful and friendly :)
Have you got a nickname or pet name for your Suzuki and why?
It's called Pikachu! (for obvious reasons haha).
What will you be doing/where will you be going when you next pick up your car keys?
Probably to a gig, recording studio, photoshoot, or film shoot!
What's some advice you would give to someone looking to buy a car?
I'd say to make a list of all the things that are important to you in a car, and see what ticks all the boxes (or as many of those boxes as possible).