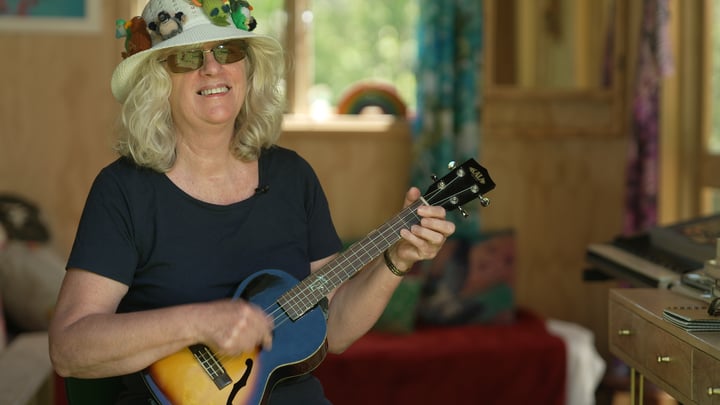 With its unique shape and excellent all-round visibility, the Suzuki Ignis is a top pick for a city car. We sat down with children's book author Janet Martin, to find out what it was like to buy her very first brand new car and why her little red Ignis is called 'The Jam-pot'.
Click here to watch the video of Janet and her Ignis.
Tell us a little bit about yourself?
I'm Janet and I'm a writer. I have written a few storybooks for children (rhyming ones) about beautiful New Zealand native birds. I live in the Waitakare Ranges which I love. There's beautiful birdlife around, it's very peaceful out here and it's the best part of Auckland.
What do you love about your Suzuki?
I couldn't help myself. I wrote this little poem about this little red car that I own.
My little red car,
Is the best one by far.
I bought it brand new,
It said "I want you".
It's small and its zippy,
To get around the city.
My car is just right,
When I want to take flight.
Is this your first new car?
My brand new Suzuki is the first new car I've ever owned. I'd only ever had second hand cars before that and before I brought the Suzuki I had my car for seventeen years. It was starting to get a bit run down, so I thought it's time I shout myself a new car. The Ignis was a beautiful little car that just fitted.
Why did you choose Suzuki over other brands?
Suzuki always have nice smart little cars and it's got a really good reputation. Plus there's the recommendations from friends who have owned them.
Why was your Suzuki Ignis the right fit?
I test drove several different brands. Most of them I didn't like because they didn't have very good all round vision, especially through the back window. I like to be able to see clearly all around me when I drive.
Definitely the fuel economy was a big part of it. All of my children have left home, so there's only me and my partner. We just wanted a little car to beatle around in and do the normal everyday things you do and maybe take on a trip every now and then, so that was why I chose the Ignis.
How do you use the car day to-day and on the weekends?
I use the car to go to the shops, writer's group meetings, ukulele club meetings at nights and in the weekends Dave and I take it to the beach or anywhere to see friends. Dave loves driving it as well.
I even took it up to Hahei in the Coromandel to stay in a batch and I met my cousins up there. We had a fabulous time just driving around the area. The Ignis was great on the open road. It had lots of zippy zoom power. If I wanted to pass anyone and I could just take my time and not stress out. It was a real pleasure to drive.
How would you describe your Suzuki to a friend?
My Ignis is my little freedom pod, which I can just jump into and drive away in whenever I feel like going to the beach, or going to the shops. As well as being a really good shopping buggy for normal everyday things. I just love it.
Describe the experience you had buying your car?
My good friend that I worked with had a Suzuki Swift and she swore by it. My partner and I went to have a look at the new Suzukis, and I was looking at the Swift and I saw the Ignis there. I thought that's a cute little car.
A lovely sales lady took me for a test drive and I really loved it. It fitted, the vision was great. It just seemed to be the right car for me. It was stress free, there was no pressure to buy, and I decided that's the car for me.
Do you have a pet name/nickname for your Suzuki?
My pet name for my car is 'The Jam-pot', because that was my nickname as a child and also it's the name of my publishing company. It's cute like a little jam-pot. It's red and it's got a black top on it.
What will you be doing/where will you be going when you next pick up your car keys?
A road trip up to the bach in Hahei because I love that place. I'd love to take a girlfriend with me or my partner, meet my cousins there, so that's my next planned road trip. Apart from that I've got a writers group meeting on Sunday coming up
What's some advice you would give to someone looking to buy a car?
Take your time and have a good look around to see what's available. Just go for a test drive and you'll just know when you've found the right car that's just right for you.