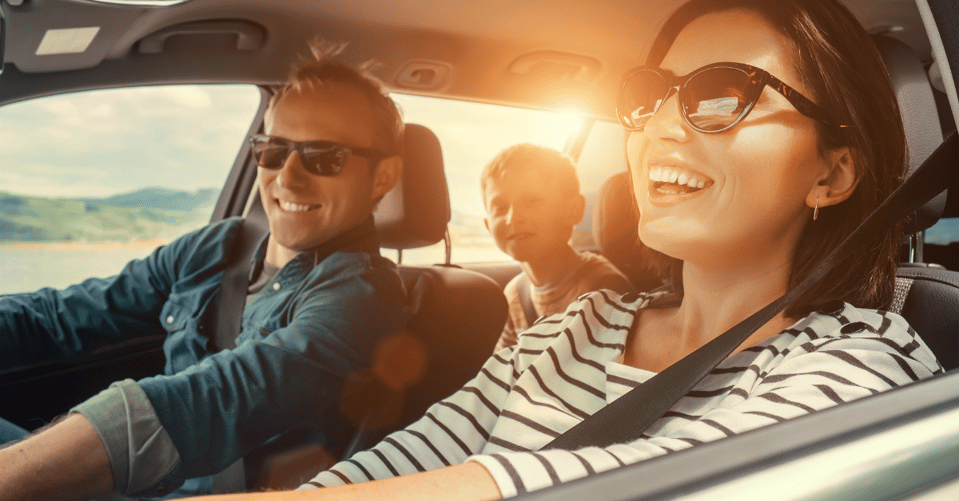 With the holidays just around the corner, it's the best time to get outdoors and explore our beautiful country. And what better way to do this than going on a road trip with your family and friends?
With our fuel efficient and family friendly range, you will find a model best suited to get the most out of your next adventure. Here are our top 5 features you'll be glad to have when you're on your next family roadie.
1. Satellite Navigation
Driving long distances to places you've never been before or don't often go to can be a challenge. So, it's very important you have a reliable built-in satellite navigation system at your fingertips.
Relying on your phone for GPS functions is not always dependable. The lower volume of the phone can make it difficult to hear over the back-seat companions and in some of the remote or rural areas there can either be less or no data coverage.
Rather than worrying about not hearing the directions right the first time or getting stranded, it's better to use the one installed and ready to go in your car. Plus some Sat Nav systems have pre-programmed directions to points of interest, including accommodation and key tourist locations.
Using the installed Sat Nav also means there is no worry of running out of battery or having to look at a small screen that could be precariously perched. It runs with your car and has saved maps which can be easily viewed by all your passengers and there's no chance of it being interrupted by receiving a phone call. You can instead save your phone battery for other things, such as deciding where to stop and eat for lunch when the tummies start grumbling.
2. Fuel Efficiency
Road trips are usually long in distance. However far you are going on your journey, an essential component of your car is fuel efficiency. Choosing a vehicle that is economical, means less dollars spent filling up and more money put towards the exciting stuff, like a sightseeing activity or that extra ice-cream stop.
Fuel capacities vary considerably between brands and types of cars. To take a look at what makes a car more fuel efficient than others, you can read our blog here.
At Suzuki, we are renowned for making fuel efficient yet comfortable and capable vehicles. Strong, lightweight platforms are paired with small dynamic engines to create some impressively economical small cars and SUVs. In our SUV range, 4WD technology is cleverly included without significant increases in fuel consumption. A prime example of this is the Vitara Turbo 2WD and the Turbo AWD. At 5.9 L/100 km and 6.2 L/100 km respectively, they are both more economical than the average small SUV and very similar in fuel efficiency rating. For those adventures on open roads and heading onto the beach or up to the slopes, the Turbo AWD is a vehicle that gives flexibility and efficiency in spades.
To explore how far all of our models will go on $100 of fuel (based on $2.00 per Litre) check out our fuel efficiency calculator here.
3. Safety
With the winding roads and extra holiday traffic that you come across throughout New Zealand, safety is a top priority. Here are some of the many safety features we have integrated into our cars:
Dual Sensor Brake Support. Automatically detects a potential collision and provides braking support in 3 different ways depending on the situation.
Adaptable Cruise Control. Automatically maintains set following distances by adjusting the car's speed. This feature would be most useful for your long-distance trip. It not only reduces fatigue, but adds to the factor of fuel efficiency.
Speed Limiter. Sets a maximum speed limit for safe driving within the speed limit.
Lane Departure Warning. Vibrates the steering wheel and sounds a warning alarm if you are drifting from your lane.
Blind Spot Monitor. Visible and audible warnings when a vehicle is in your blind spot and you are changing lanes.
Reverse Camera. Helps increase visibility when you are reversing.
Strong Structural Integrity. Protects you and your passengers in the event of a collision.
The full safety equipment specification will vary between each model while all new Suzuki vehicles come standard with an extensive 5 year warranty programme which is made up of 3 components. First a comprehensive 3 year new vehicle warranty which covers your entire vehicle. Second is an added 2 year powertrain warranty extension and finally a Suzuki roadside assistance plan that is 24/7 coverage for the full 5 years.
To find out more about our safety components visit https://www.suzuki.co.nz/cars/why-suzuki/safety
4.Comfort and Space
When you are going away on a relaxing holiday or a wild adventure, you and your family need to be comfortable and have enough space to pack all the essentials.
Your family size, the type of holidays you like to take and how often you go on holiday may determine the size of car you choose. It is important your vehicle choice is able to take all of your luggage safely and comfortably. SUVs like the Vitara or the S-Cross are a fitting choice for a family vehicle as the boot is accessed via a hatch and the split folding seats can be adjusted for larger items .
There are also specialised Suzuki accessories that can attach any equipment you need for your adventure. These include roof racks and bike attachments to truly make the best of your summer exploring or ski and snowboard attachments for your winter road trip.
Not only is the luggage space important, leg room, headroom, adjustable seating and plenty of cup holders are a must for the long hours in the car. Plus when you're between stops, extra cup holders can serve as short-term storage for phones and empty snack packets.
5. Connectivity
Lastly, a road trip would not be complete without good 'sounds'. A place from where you can listen to music and belt out the lyrics to your favourite songs is a must have. It is the best way to keep energy levels up and the driver awake on those long drives.
The audio system in a car has several different functions and connectivity options, such as a touchscreen tuner to find your desired radio station and hands-free connectivity to answer phone calls on the go. You can also connect your phone to your car (in Suzuki's this is with Apple CarPlay and Android Auto). This allows you to make calls, get directions and listen to your music through the infotainment system or by voice command.
Access to charge devices and phones through a USB or AUX cable is a must on the long drive, so check for where the ports in a car are positioned.
With stunning scenery everywhere you go and experiences to suit everybody – NZ's got it all. It's the perfect opportunity for you to get out, explore and truly enjoy our magnificent country. With these top 5 features and much more, you will be glad to have invested in a Suzuki for all your family road trips.