If you're a Kiwi considering buying a new car it can be easy to look at the price tag and take it at face value. However, if you dig down into the true costs of owning a car, you might be surprised to find there are some expenses you might not have considered from the outset.
If you want to find the perfect new car, get great value for money and buy a vehicle that stands the test of time both in reliability and dollars in your pocket, there's a bit of research to be done. Fortunately, by doing your due diligence and looking at the most reliable, fuel efficient and low maintenance vehicles on the market, you can save yourself money and hassle down the track.
We've broken down all of the different variables that contribute to a car's overall cost to run, so that you can get a better idea of the true price tag and make an informed decision.
Note: We'll take you through the process using one of our most popular models, the Suzuki Swift GL Auto. This will give you a good feel for the costs involved in buying a new car.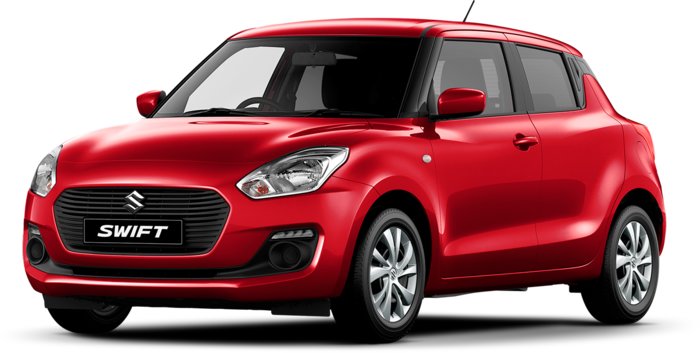 Fixed Costs of Owning a Vehicle in New Zealand
Fixed costs are those expenses that are upfront when you buy the car and are a consistent amount throughout the time you own it. As they're almost always known beforehand, you'll be able to do your research and make sure you're getting the best deal possible before making a decision.
Cost to Buy your Car
The first fixed cost to look at when buying your new car is the upfront price tag. It's important to work out what you can afford and do a full budget breakdown of your income and outgoing expenses to understand which vehicles are within your price range.
The upfront cost of a car is where you'll have the most wiggle-room to make an informed decision and save some cash. For example, by comparing cars within your price range you'll:
Get an idea on what features each make and model has to offer
Understand the fuel economy ratings which could save you in the long term
Using the example of the 2020 Suzuki Swift GL Auto, the upfront cost of a new model is recommended at $21,990. Please note there is an additional charge for all new cars for on road costs of approximately $1,000. On road costs are set by the dealership and include registration, warrant of fitness, a full tank of fuel, pre-delivery inspection and preparation.
Interest on Finance
If you're not able to buy your new car outright, using finance is a fantastic way to get the wheels you're after. However, it's important to understand there are additional costs associated with financing a car.
Interest rates can range anywhere from zero all the way up to around 30% depending on the offer and the lending institution If the interest rate is very low, take the time to review the conditions as there are often balloon payments or a large final payment required at the end of a shorter loan period.
Over the term of your car loan, which typically sits between one and five years depending on how quickly you can afford to pay it off, you'll be paying interest which increases the total cost of the car. The lower the interest rate and the shorter the loan term, the less extra cost you'll take on.
It's also likely that there will be documentation fees or loan establishment costs associated with your new finance deal, so it's important to factor those one-off payments into your total cost of owning a car as well.
Using the example of the 2020 Suzuki Swift GL Auto with the upfront cost of $21,990 financed at a low interest rate of 3.9% p.a. over a period of 5 years, your total amount payable would increase to $24,559.09 (this includes a $305 documentation fee and $10.35 PPSR fee).
At Suzuki, we offer competitive finance offers and a finance calculator to transparently help you work out the cost of buying a new vehicle and apply for finance online. You can try it, here.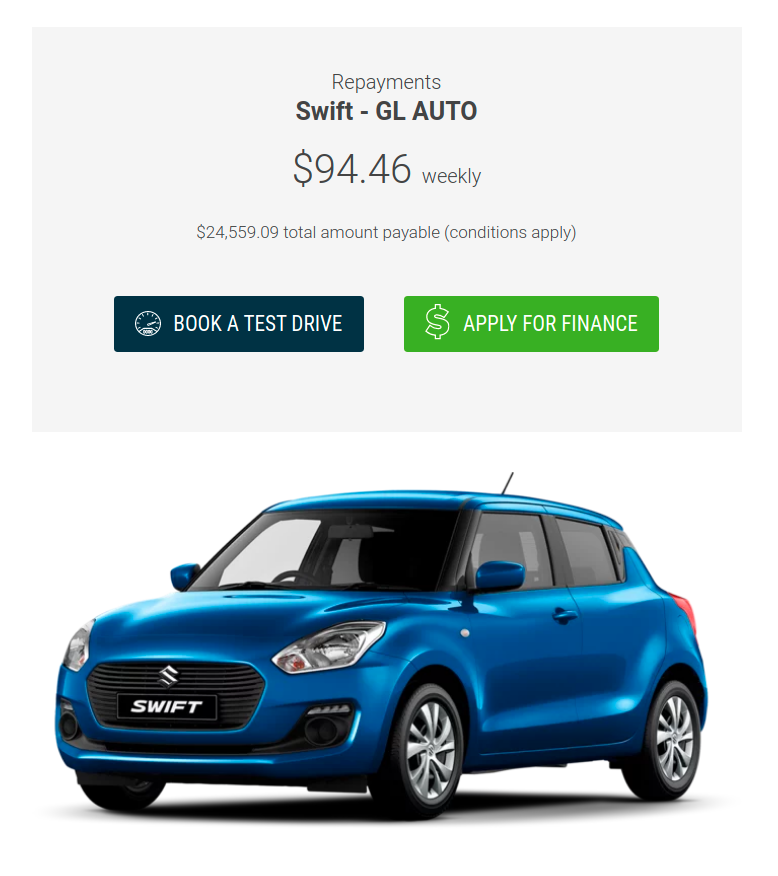 (Check out our recent blog on car financing for more details)
Insurance
The next fixed and regular cost associated with buying a new car is insurance. It's important to have insurance in place as it will cover you if the unexpected happens. Comprehensive insurance covers you for accidents, theft, fire, vandalism and storm damage, plus damage to someone else's car or property, as opposed to third party insurance which only covers accidental damage to someone else's car or property. It is generally a requirement if you're paying for a new car with finance to comprehensively insure your car.
For a car around the value of our example, the Suzuki Swift GL Auto, comprehensive insurance policies can range anywhere between $550 p.a., to $1300 p.a., depending on your choice of car, age, driver history and other factors such as the area you live in, as well as the insurer chosen.
Fortunately, we offer a variety of insurance policies designed to protect you and your new car. To streamline your outgoing payments, insurance premiums can also be included in your vehicle credit contract with Suzuki Finance.
WOF
The cost of a WOF or Warrant of Fitness inspection varies, averaging around $50 - $60 in New Zealand. With a new car (or any model registered on or after 1 January 2000) this will need to be renewed every 12 months.
For those that buy a brand new car, the warrant of fitness is valid for the first three years, and is included in the fixed on road costs.
Registration or Motor Vehicle License
Similar to your Warrant of Fitness, you'll need to keep your new car licensed to legally drive on New Zealand roads. Colloquially known as a 'rego', the cost of a motor vehicle license for a private passenger vehicle differs depending on model and how long you register it for. The costs for the Swift GL are as below:
3 Months: $30.56
6 Months: $56.73
12 Months: $109.16
It can also change depending on the type of car it is, such as diesel or electric, the amount of CO2 it emits and whether its used for transporting goods or providing a service.
This cost of the motor vehicle license is made up of:
$43.50 for the National Land Transport Fund
an ACC levy that varies depending on the vehicle type and fuel type.
GST, transaction fees, and other fees (such as the cost of the label itself).
Flexible Costs of Owning a Vehicle in New Zealand
There are also a number of costs associated with owning a vehicle that change, depending on general wear and tear, the fuel economy and how you use your vehicle, and any unexpected repairs. While these aren't easily predicted , it is possible to minimise flexible costs by making an informed decision when selecting your new car.
Petrol
This is probably the biggest ongoing cost that you'll have when it comes to running your car. The difficulty in estimating how much petrol will cost you each year is that the price of petrol generally fluctuates and the rate at which you consume it will depend on where, how far, and how often you drive.
That said, it is possible to reduce the amount of petrol you use by choosing an economical vehicle and by driving conservatively.
Things to look for in a fuel efficient car include its overall size and weight, engine technology (such as hybrid models), engine size, aerodynamics and mechanical efficiency. To find out how to drive more efficiently, take a look at our tips here.
Choosing the right car from the get go can save you a lot of money on fuel over time. If we take a look at our example model, the Suzuki Swift GL Auto can travel around 1042km on $100 worth of petrol (at $2 per litre), compared to other small cars in its class that would travel only 909km on the same amount of fuel.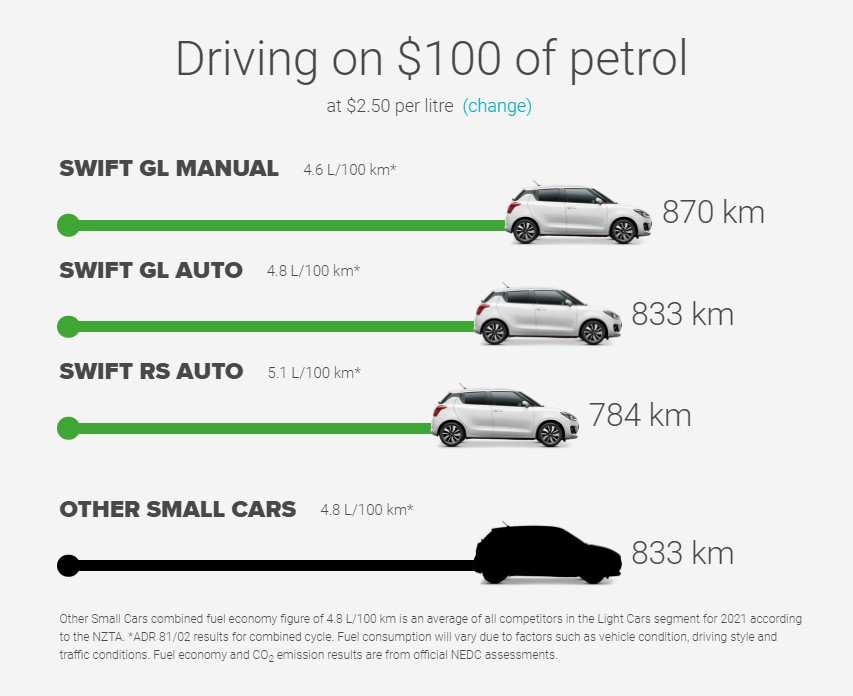 For the average person driving around 15,000km per year, the Suzuki Swift model would cost around $1440 in fuel to run per year, compared to a more expensive small car at approximately $1650 per year. That's a saving of approximately $210 per year, just through consciously choosing an economical car from the outset.
For more help, you can check out our advice on how to choose a car with the best fuel economy or our top 3 list of fuel efficient small cars.
Servicing
Most new cars are recommended to be serviced around either 10,000km or 15,000km (depending on the model) or every 12-months - whichever comes first. A full car service usually costs between $300 - $500 every year and includes the checking and replacing of items like lights and indicators, wiper blades, battery, engine oil and air filters.
It's important to regularly service your car as it keeps your car running optimally and prevents any issues further down the track which could cost you more money.
To keep servicing costs at a minimum, Suzuki offers a 3-year servicing plan when you buy a new car, to ensure that your vehicle meets our warranty conditions and runs at peak performance while also saving you hundreds of dollars. Right now (July 2020), the service plan costs $699, which is likely to save you a few dollars right off the bat. By buying it upfront, this becomes a fixed cost and can also be included in your vehicle credit contract with Suzuki Finance.
Maintenance
Of course, every driver's car at one point or another experiences wear and tear and needs parts replaced. A good example of this would be car tyres which usually need to be replaced every 40,000km. The cost of new tyres depend on the specifications of the tyre specific to your car and are an inevitable cost, so it's worth looking into how much parts like this might cost to replace in the new car model you're looking at buying.
Repairs
The most difficult expense to predict is those unexpected repairs. Most brand new cars are covered by a manufacturer's warranty. In the case of the new Suzuki Swift GL Auto, Suzuki offers a 5 year Warranty package including a 3 year comprehensive new vehicle warranty, 2 year powertrain warranty extension and 5 years of roadside assistance.
Any new and used cars bought at a registered dealership are also covered by the Consumer Guarantees Act. If there is any issue, not caused by misuse of the vehicle, then the seller is obligated to repair, replace, or refund depending on the situation.
Aside from these protections, take the time to choose a make and model known for its reliability, with quick and easy access to parts and professional technicians that know all about your car.
Not sure which car will cost you less and work for you?
Choosing a new car that's not going to cost you a lot in future can require a lot of research, but it's worth looking into. We've put together a FREE guide to buying a new car that will help you in your decision making process. Download your copy below.