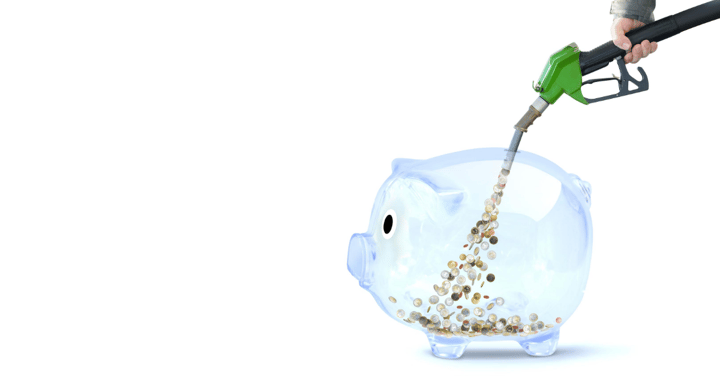 There can be a big difference in fuel consumption between cars, even if they're of a similar size. A car's fuel economy rating is an easy way for consumers to compare and find out which car is going to be more economical.
Where do I find the fuel consumption rating? The good news is, all motor vehicle traders or car dealerships must display fuel economy labels on all vehicles (except for electric vehicles), provided a fuel economy label is available - so there is always a point of reference to help you out when you're deciding which vehicle to buy.
However, sometimes understanding what a fuel rating means can be quite complex. Here's a quick break down to help you make that most informed decision possible when choosing your next new car.
What is a Fuel Economy Label
A fuel economy label is a New Zealand Government authorised ticket that explains the fuel efficiency of a car using a star-rating system. This is what the label you're looking out for looks like:
You'll notice a few features on the label:
The vehicle make and model:

These should match the car you're looking at. The model includes the engine size, the model variant and the transmission.




The star rating:

This shows you how efficient the car is at a glance. The more stars, the more economical with the best possible rating being 6 stars.




Estimated running costs per year:

How much it's going to cost you to fill up your tank annually. More on how to work out that figure yourself, below.
Fuel economy in litres per 100km: This shows how many litres of petrol your car will use when travelling 100km. The lower the figure the more economical your car potentially is. If you're looking at a car in a dealership these labels should be easy enough to find in the window or on the dash.
Even if you're browsing online, sellers are required (whether they're a private seller or a trader) to make sure the fuel economy (litres per 100 km), running cost per year and star rating is provided - in text format. The manufacturer's website and sales brochures will also include this information.
Understanding Star Ratings
A vehicle is allocated a star rating based on how much their estimated running costs per year add up to. This is how each star rating for the 'typical New Zealand Driver' who drives approximately 14,000km per year is broken down:
(table sourced from energywise.dotnous.com, official star rating provider)
Almost all of Suzuki's range of small cars and SUVs are rated between 4 ½ and 5 ½ stars, making Suzuki one of the most economical choices in New Zealand.
It's important to note that while the star rating tool can be used to provide a useful estimate, your results may vary depending on factors such as vehicle condition, vehicle modifications, driving style, traffic conditions, distance traveled and fuel price variations.
Understanding Litres per 100km
The fuel economy rating displayed as 'xx' litres per 100km or 'xx' L/100km means that for every 100km driven on the road, your car will consume 'xx' litres of fuel. Therefore, the lower the litres per 100km, the more economical the car.

To put that into perspective, if you looked at the average cost of petrol, let's say around $2.00 per litre, and you bought a car with a fuel economy rating of 4.6L per 100km (like our Suzuki Swift GL model), it would cost you around $9.20 per 100km drive.

If you consider the average person clocks about 14,000km per year in their car, that adds up to about $1288 estimated running cost per year.
The higher the 'xx' litres per 100km goes, the higher your cost to fill up your car over the course of the year becomes.
Don't worry though, – you can simply use our fuel economy calculator to compare the models in our range against the average small car or SUV and get an idea of how far each you can travel on $100 of fuel.
Where Does the Fuel Rating Come From?
All car manufacturers put their vehicles to the test against internationally agreed standards and guidelines to determine their official fuel economy and CO2 emission figures.
These tests are conducted in controlled conditions using a machine called a dynamometer which simulates different driving environments. The tests produce results for the following types of driving:
Urban: Simulates driving in traffic, including a combination of idling, acceleration, steady driving and deceleration.
Open Road: Simulates open-road driving with a sustained period of steady driving at higher speeds (average speed: 63km/h, maximum speed: 120km/h).
Combined Cycle: The combined figure is the average of the two tests, weighted by the distance covered in each part of the test. This is the result quoted as the vehicle's fuel consumption figure.
Real world tests:

Noted independent New Zealand Motoring journalist Donn Anderson has undertaken numerous real-world fuel economy runs with Suzuki models in New Zealand – all of which bettered the official combined cycle fuel tests. Completed with two occupants and luggage and no special preparation, you can read the results, here.
Will your fuel consumption vary from what's on the label?
Yes, it's likely that your fuel consumption will differ slightly. The fuel economy labels are intended as a guide and point of comparison between any two different cars. However, there are factors that might differ between your experience and the next driver that could impact fuel consumption, including:
your vehicle's condition

your driving style

road conditions

the cost of petrol

tyre inflation

excess weight in your car
Fuel Labels for Electric Cars
Electric cars also have fuel economy ratings – they're just slightly different to the typically petrol car fuel economy rating:
fuel economy for electric cars is shown in kilowatt hours per 100km

information includes a range showing how far the car can be expected to go on a full charge

displaying the label is optional for dealers.
If you're looking into an electric or hybrid model, it's always worth asking for a fuel economy label so you can draw comparisons between two models, or alternatively, take a look at the NZ GOVT Energy Efficiency & Conservation Authority vehicle total cost of ownership tool.
Trying to find the right car?
Fuel economy is a huge factor to consider when it comes to picking the right car to buy – but it's not the only thing to consider. If you need a little extra help deciding which car is right for you, download our FREE guide to buying a new car below.