With the ever-increasing variety of cars available, it can be hard to filter out what car is best for you and your individual needs. Finding a car that is the right size for you can be a little easier by taking into account the following information.
What Seating and Interior Room do I Need?
Consider first who you are going to be transporting regularly and for how long the 'usual trip' will be in your new car.
The interior seating and space in a vehicle can be configured in a multitude of ways. From 2 seats in a sports car, the standard 5 in a hatch, sedan or SUV, and 7 to 9 in a people mover or van, each type of vehicle offers various combinations of headroom, legroom and seat adjustment for the comfort of you and your passengers.
When to Consider a Small Car
A smaller vehicle is a logical choice if you're driving solo, there are two of you, or if you have small children. You don't need as much interior room, and a smaller car is more economical. If you do have small children, it's a good idea to check that their car seats comfortably fit in the back seat.
Remember, a small car doesn't need to feel cramped inside. Look for cars with tall roofs that provide generous headroom and a light airy feel to the cabin. Suzuki are experts when it comes maximising internal space within a compact exterior and you can look over our range here.
When to Consider a Large Car
Consider a larger vehicle if you have a large family or find yourself transporting lots of people or go on long road trips regularly. A large SUV, people mover, or has more interior space, leaving more headroom and legroom for passenger comfort and easier access to the back seats through features like sliding doors.
Depending on the model, a larger car will seat you higher, giving you better visibility while driving, however, as the car is heavier, it will cost more to fill it up.
When to Consider a Mid-Sized Car
You can have the best of both worlds with a spacious all-rounder like a compact SUV or to medium SUV. Suzuki specialise in these vehicles and you can check out our range here.
Capable long-distance cruisers, SUVS and crossovers gives you extra headroom and legroom in the back with practical flexibility, – such as rear seats capable of sliding forward to increase passenger room in the backseat, or to increase luggage space. Again, you get added height in your seat, to assist your visibility and a wide range of adjustments mean it's easy to find the right driving position.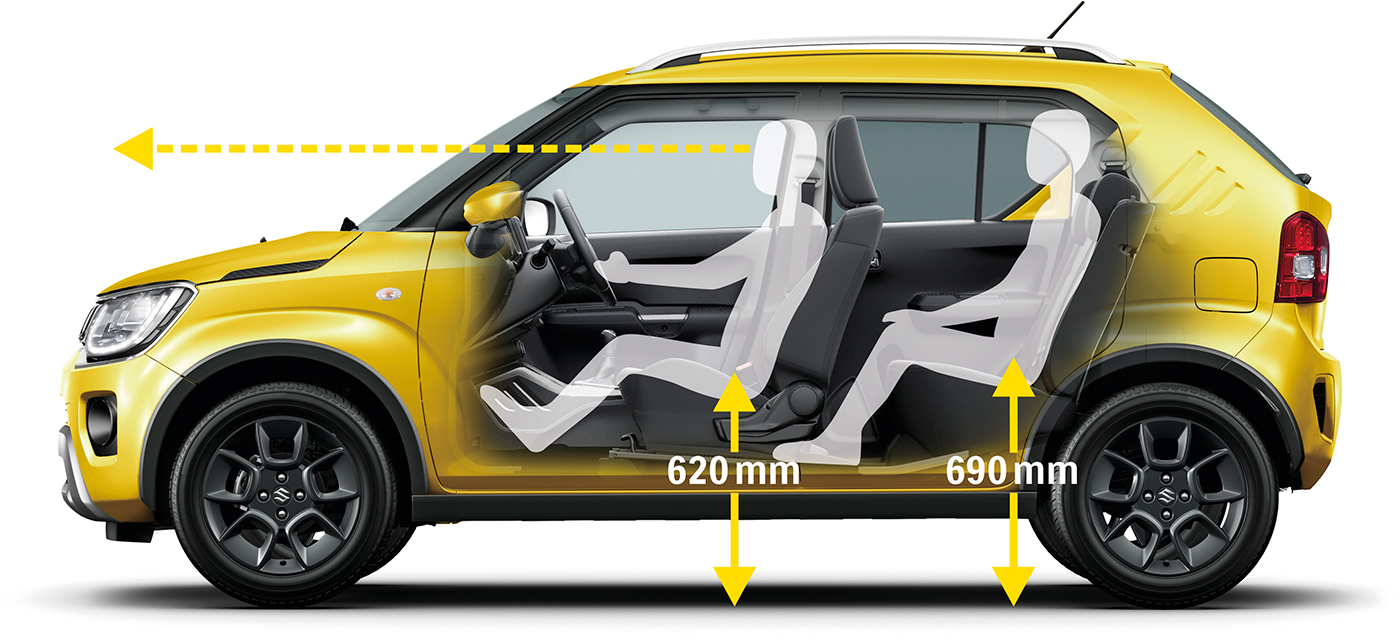 Luggage Capacity – How Much Do I Need?
Before purchasing a car, keep in mind what sort of activities you get up to so you can consider how much boot space you will need. You'll want room to pack the equipment you often carry without having to encroach into driver or passenger space.
When to Consider a Small Car
If you're using your car for a run-around vehicle for groceries, your gym gear, or a few plants from the garden centre, then you won't require much boot space and a smaller sized car will suffice.
When to Consider a Medium Sized Car or Larger Car
If you partake in sports which require bulky equipment, you need to transport prams or strollers, you will be taking road trips with the family, or even just have a dog that likes to get wet and muddy – then consider a car with a deep, large boot space or rear seating that can be folded down to make more room.
With oversized items another good option is to secure them to roof racks and SUVs often come with integrated roof rails to make this even easier.
Exterior - How Wide, Tall and Long do I Need?
Take the time to think about where you store your car, what type of streets you normally drive on, how confident a driver are you and even things as simple as how you are going to wash your car. The dimensions of the car you choose should fit within your capabilities and the places you live, work and play in.
When to Consider a Smaller Car
A smaller car is excellent for urban areas where parking is tight or garage space is even tighter. If you have to park in a parking building or do a lot of parallel parking then the smaller dimensions make it easy to navigate the tight turns and park with ease.
Smaller cars are also a fantastic choice for learner drivers and those not so confident in their driving ability as they have a shorter wheel base and are easier to manoeuvre.
When to Consider a Medium Car
If you aren't fighting for space or room at home, then a medium car is a practical compromise.
Plus a medium sized car is usually a manageable height for when the job of cleaning the car comes around.
When to Consider a Larger Car
Larger cars take up more room, so it makes sense you will need more space at home and work and more room to park them in town. However the benefits of a larger car come to the front when you wish to tow heavy items like caravans or boats.
Larger cars tend to be higher, so you will need the physical ability to get yourself up into the seats.
What Engine Size do I Need?
Generally, the bigger the car, the bigger the engine needed and the less fuel efficient they are.
When to Consider a Smaller or Medium Car
A smaller or medium car will generally have an engine size between 1.0L-1.9L.
They are very economical even when you are driving frequent, short trips with light loads.
If you like a smooth, zippy drive then a smaller engine in a light, compact car will be a superb choice.
When to Consider a Larger Car
A larger car will generally have a bigger engine size of about 2.0L+.
While not as fuel efficient as a compact car, you will need the larger pulling power from a bigger engine to allow for the increased weight from more passengers, more gear and towing weight.
Pros and Cons of Small vs. Large Vehicles
Pros of a Small Car
Less expensive. The smaller vehicle is going to cost less to manufacture as there are less materials used to make the car.
Running costs will be cheaper
Less carbon footprint
Easier to park and manoeuvre around tight streets
Easier to wash
Suitable for learner or less confident drivers
Cons of a Small Car
Can feel less spacious when carrying passengers
Less internal room for large items
Smaller towing capacity
Pros of a Large Car
More powerful due to a bigger engine
More space inside for passengers and luggage
Suitable for towing heavy loads
Cons of a Large Car
Can cost more to buy
Less economical
As a general rule, find the smallest, least-expensive, most fuel-efficient vehicle that will fulfill what you do the most often with your car.
Make sure test-drive the cars you are looking at before making the commitment to buying one. Your local dealership will be more than happy to answer any questions you may have, and feel better equipped by reading our Complete Guide to Buying a New Car.